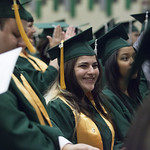 Free GED Classes in English and Spanish
Our GED classes prepare students to pass the GED exam.
Day, night, in-person and online classes are available.
Our GED classes are offered in the following locations:
Why?
Get a new job.
Earn more.
Prepare for college.
Be a role model.
Advance in your career.
Achieve your goals.
Step Two: Schedule Orientation
We will contact you within 2-5 business days to schedule orientation and testing.
Step Three: Come to Class
Photo credit: "College of DuPage 2014 Commencement Ceremony 60" by COD Newsroom
licensed under CC BY 2.0