2017-2018 Dedicated Dads Group

The Dedicated Dads Group is a fatherhood program for any father, stepfather, grandfather, uncle, or father figure. Our Dedicated Dads Group is facilitated by our Father Engagement Coordinator, David Bryant. In the group fathers learn about being a 24:7 Dad. A 24:7 Dad is aware of his role as a father, takes care of himself, and works on fathering, parenting, and relationship skills. Participants receive a handbook as being a part of the group. The cost is free to attend this weekly gathering of fathers striving to be the best examples for their children.


Dedicated Dad Group San Marcos

Location: Old Mill Station
101 Uhland Rd. Ste 107
San Marcos, TX 78666

When: Fall Session: September 12 – October 10, 2109

Spring Session: TBD

One on One Sessions, Group Sessions, and Fatherhood Workshops available upon request.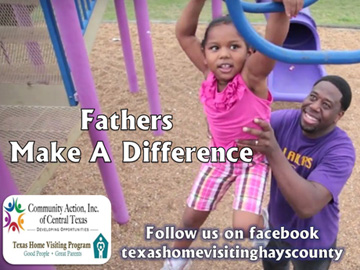 The Importance of FATHER INVOLVEMENT: Children who grow up with involved fathers are:

39% more likely to earn mostly A's in school

45% less likely to repeat a grade

60% less likely to be suspended or expelled from school

2X as likely to go to college and find stable employment after high school

75% less likely to have a teen birth

80% less likely to spend time in jail