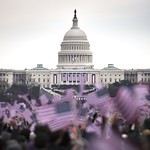 Free Citizenship Classes
Our Citizenship classes prepare students to pass the Citizenship Interview
as well as the reading and writing sections of the test.
Day, night, in-person and online classes are available.
Become a student today!
Our Citizenship classes are offered in the following locations:
Step Two: Schedule Orientation
We will contact you within 2-5 business days to schedule orientation and testing.
Step Three: Come to Class
Photo credit: "Marines support 57th Presidential Inauguration" by DVIDSHUB
licensed under CC BY 2.0
..